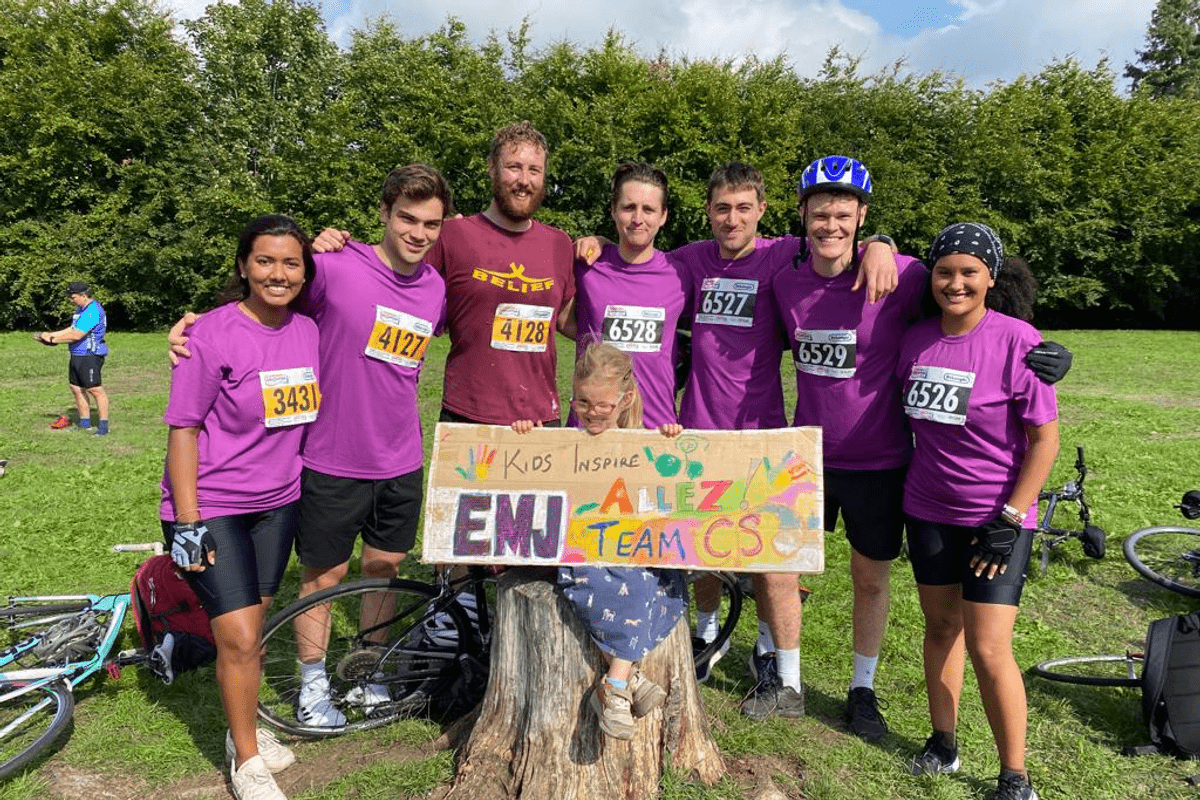 We can train raw skills, but we can't change your values. EMJ's values are focused on:

Taking care of your own: We all need to be proactive and responsible for our own actions. This will lead to an inspiring place to work that we are all proud of.

Going the extra mile: Always give your best performance, this will create a team that is different to anything else, full of hard working, gold medal winners.

Entire buy in: Everyone has loyalty to our vision, values, culture, and the long-term goals of EMJ. We are committed to doing so in a positive and passionate.
Values Champions
Four our Values, we have 'Champions' that represent those values, not just from the business world!
Read on for more information...
About Our Values

The company credits much of its success to the embedding our VALUES within its people.

We are steadfast in our vision to create Gold Medal Winners in everything we do, as it has proven to be a win-win. Our staff succeed and so do we. With entire buy in from our employees from the outset, our people are enabled to not only take care of their own work, but go the extra mile for their team and company, to deliver – that's great for EMJ, but most importantly for themselves.




Positive

Ben Hunt Davis was on a team of greatly talented rowers, who could never quite make it onto the podium at the International stage.

They decided to try something completely different; with everything they did they asked, "will it make the boat go faster?"

They focused on a positive environment. If they spoke to press who put out a negative report, they wouldn't talk to them again; if the press member created a positive story, they would talk to them again. This created a positive environment that led them to Olympic gold.

In 2023, Ben joined us at our "Summer Ball" to help us consider how to make the boat go faster

Keeper of Values

When Karren Brady joined Birmingham City, the club was being relegated: it was failing.

She spent time in each department and found that many employees did not buy into what the club was trying to achieve and were not truly proud of their jobs.

To change the company mindset, Brady integrated the business; accounting had a go at hospitality, sales, and retail, and vice versa. She worked hard to make sure that every employee understood, respected, and valued every single role. Everyone was responsible for upholding this new mindset. Birmingham City was later sold for £81.5 million.

In 2021, Karren Brady visited EMJ at our "Summer Ball" and kindly shared her story with the company.

Loyal

Richard Branson allows his Virgin Corporate team of nearly 200 employees to take as much holiday as they want. They don't have to tell anyone they are going on holiday or how long they will be gone; Branson trusts them all.

He believes everyone will hit their targets as he has filled his team with the highest quality people. Branson is loyal to them by offering freedom, building trust and, in turn, creating employee loyalty to Virgin. This unbelievably trusting mindset is something that we aspire to achieve at EMJ.

Different

Steve Jobs set up Apple but was sacked in 1985. He returned when the company was nearing bankruptcy and built it into a multi billion-pound business. He did things differently.

His 'Think different' advertising campaign did not mention Apple's products or name; he was confident that people would be inquisitive enough to research the company. Jobs completely buying into the company and taking a different approach pushed Apple to overtake all their competitors.

Inspiring

Sir Alex Ferguson joined Man Utd in 1986 with a determination to rebuild not just the team, but the whole club. Over 20 years he became the most successful manager ever; winning the most trophies ever won by a manager.

Even at the end of his career, he was still the first one in the office or in training every single morning because he was so passionate, and he bought into what he was doing. Man Utd won the league in his final year and finished 7th the following year, highlighting how inspiring he was to the team.

Hardworking

Kobe Bryant is remembered as one of the most successful basketball players of all time.

He became the best by working relentlessly. Bryant was always the first one in practice, and when he broke his right wrist, his teammate admitted to being excited at the chance to be the first one in for once. He arrived to the sound of a bouncing ball; Bryant was already sweating in practice, a cast on his right arm, practicing shots and dribbling with his left. He worked to improve his left-handed skills to ensure that an injury would not hold him back.

Bryant was constantly striving to the best and didn't let anything stop him from improving.

Gold Medal Winner

Sir Clive Woodward has coined the phrase 'critical nonessentials':

Improving something by 50% can seem daunting, and it can be hard to think of something to implement that will have such a big impact, whereas if you break everything down into 100 small pieces, and improve each of those by 1%, you will have 100% improvement.

It is much easier to go in and find little things to change that will collectively create a huge impact.

In 2020, Sir Clive gave a talk to EMJ, kindly sharing his story with the company.

Passionate

Eddie Izzard saw the work of Sport Relief and became passionate about getting involved.

Their first meeting with Sport Relief was 20 miles out of London, so they decided to run there, despite that fact that before then, they hadn't even owned a pair of running shoes! They arrived 8 hours later after walking most of the way and was so inspired by the work they were doing that they set off on a mission to complete 43 marathons in 51 days. They had no athletic training, but accomplished their goal and at their final marathon beat their personal best.

Proactive

Jack Welch was CEO at GE where they would rank employees from 1-100.

They reinvested in the top 20% employees; huge amounts of time and money were spent improving and rewarding them. The middle 70% were trained to be even better. It was decided that the bottom 10% would be better suited at other companies, and their experience at GE should have enabled them to walk into jobs that were a better match.

This was Welch's way of saying you've got to keep moving and improving; be proactive in your mission to overtake the front runners.

Proud

John F Kennedy was given a tour of the NASA space centre in 1962 during the space race.

During his tour, he spotted a janitor carrying his brush and stopped them to have a conversation. Kennedy asked, "what is it that you do here?" and the janitor responded, "I'm helping put a man on the moon."

The janitor had bought into the whole concept; they saw themselves as a small but important cog in a huge machine and was proud of the part they were playing.

More on our Values

Every week, on a Monday morning, we have a weekly company huddle, which is an opportunity to share successes and shout outs from the week previous, setting people up for success.

One of our team also shares a Values story that means something to them, that reflects how they see this value in action. We have many more stories from external influences, but also our incredibly talented team. Please feel free to ask for more information when reaching out to the team.
Values FAQ
They're all just as important. We have 10 values - which some have said are too many, which is why we simply with the following:
1. Entire Buy In (Loyalty, Positive, Passionate)
2. Take care of your own (Proactive, Inspiring, Proud)
3. Go the Extra Mile (Different, Hardworking, GMW)

We have two main interviews, Competency & Values, to assess who has 'Gold Medal Winner potential' from the outset.

We constantly question and review what people do to go the extra mile.

Employees shout out those who share the values, and our SLT give out weekly Gold Medals - so we are all aligned and we celebrate those who demonstrate the values!

In short, no!

In a scenario where our values don't align, it doesn't mean there's anything wrong with you (or us!)

We want to ensure that we have a team who can help us achieve our goals, and likewise be the team to help you achieve yours.
Meet EMJ's Gold Medal Winners
We've interviewed staff from our teams, to find out what makes them Gold Medal Winners. Read their stories on the links below: